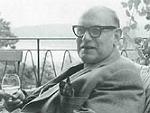 Gösta Enbom
Gösta Enbom was born in 1895 at Domnarvet, Sweden, where his father held a senior position at the well-known steel-works. Enbom died on January 3rd 1986.
After studies in engineering in Germany, he worked at Motorenwerke Mannheim from 1916 to 1928. Later he represented different Swedish companies in the Baltic States, Danzig, Poland, Greece, Turkey and Egypt from 1928 to 1936. From 1937, Gösta Enbom lived in Greece for nearly fifty years with the interruption of a couple of years during World War II. In the years 1942-1945 he was a member of the Swedish Red Cross Commission in Greece. In 1945-1946, he was a member of the United States Relief and Rehabilitation Administration (UNRRA) in Greece.
After the war, Enbom ran the firm of Gösta Enbom & Co Ltd in Piraeus. He had close connections with the Danish shipyard Burmeister & Wain and became Danish Consul in 1952 and later on Consul-General. From 1970 he funded the Swedish excavations in Asine on Peloponnese and he proposed the participation of Danish archaeologists, which resulted in a fruitful collaboration of Danish and Swedish archaeologists. Enbom's interest in archaeology continued and when he died in 1986, he left his property in Denmark to the National Museum in Copenhagen and his property in Sweden to the Royal Academy of Letters, History and Antiquities.
From: Carl-Gustaf Styrenius, Asine. En svensk utgrävningsplats i Grekland/A Swedish excavation site in Greece, Medelhavsmuseet skrifter 22, 1998, p. 77.
See: Bigaard, Stig; Dietz, Søren and Schepelern, Otto Christian: "Generalkonsul Gösta Enboms Fond 25 år – manden, tiden og fonden", in: Nationalmuseets Arbejdsmark 2011.