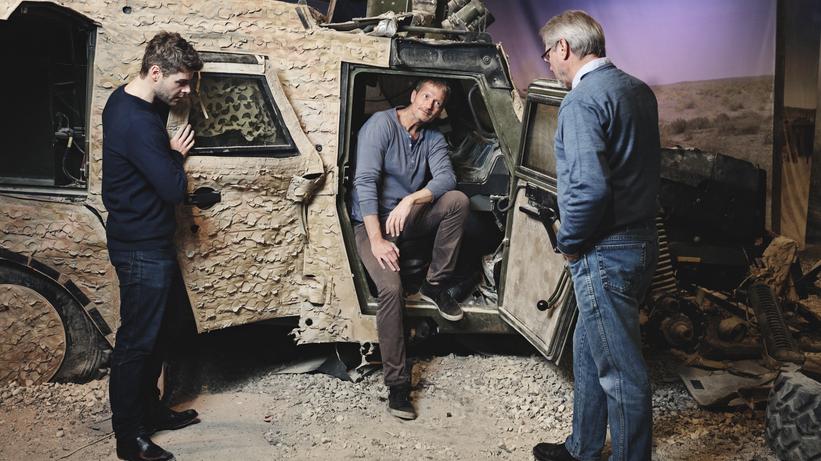 An exhibition about the War in Afghanistan
In autumn 2001 Denmark joined the US in the war in Afghanistan. The exhibition 'A Distant War – A Danish Soldier in Afghanistan' describes a young Danish soldier's journey from the safety of his childhood bedroom in Denmark to distant Afghanistan, through Camp Bastion, the Green Zone and Gereshk, then home via Tune Airport.
Sand, shooting and soaring heat. These are some of the words Danish soldiers use to describe their experience of being stationed in Afghanistan. For the first time in Denmark, civilians are given the opportunity to enter the desert army camps, and feel the atmosphere among members of a Danish task force. At The Royal Danish Arsenal Museum a small section of this distant military zone has been recreated behind sand-coloured protective walls.
The 600m2 exhibition recreates a Danish military camp and its surroundings as realistically as possible. Crate upon crate of uniforms, weapons and first-aid equipment have been brought back to Denmark from ISAF Team 10, who were in Afghanistan in autumn 2010. Everything in the exhibition has been used, worn and covered with personal graffiti.
The goal of the exhibition is to make the life of Danish soldiers in Afghanistan more tangible, and almost all the exhibits can be picked up and held, bringing museum visitors into direct contact with everyday life in the camp. The exhibition also uses special effects to recreate the atmosphere on the ground - and shake the senses.
The exhibition has numerous computer screens visitors can use explore in more detail via maps of the mission area, photographs from inside the camp, and a timeline of almost a decade of the operation.

A Distant War has been made possible thanks to the generous support and contributions of The Nikolaj and Felix Foundation, The Obel Family Foundation, Defence Command Denmark, The Military History Centre at The Royal Danish Defence College, Kredsen Mars og Merkur Danmark, and The Friends of The Royal Arsenal Museum.
All firearms on display are non-functional.