Wedding in Copenhagens most unique banquet room
Celebrate your wedding in Copenhagen's most unusual and beautiful venue and let your big day be a part of history. The National Museum loves parties and wedding parties are the best!
We can serve a welcome drink in the beautiful Rune Hall or in the Gardens - depending on the weather. Dinner is served in the beautiful and historic Assembly Hall, and after dinner the party continues in the Glass Hall, which has direct access to a cozy courtyard. If you want to entertain your guests while you are being photographed, we will suggest either a canal cruise that ends in Frederiksholm Canal just outside the museum or that your guests arrive before you and we open one of the museum's exhibitions exclusively for them. It is off course free to visit an exhibition in connection with a wedding party.
A wedding package at the National Museum costs from DKK 1,950.
The package contains:
Welcome drink & snacks
3-course dinner
Wine menu, ice water, beer, juices ad libitum
Coffee & the
Free bar after dinner incl. long drinks for 3 hours
Late night snack
Project manager for 5 hours
Rent
Service and furniture
Cleaning
Museum hosts
Please don't hesitate to contact Conferences and Events for an offer and do make an appointment to come by and see the beautiful venue.
It is also possible have the actual wedding ceremony in the Assembly Hall, the Garden or at Christian IV's Brew house, located five minuets from the museum.
Catering is provided by Madkastellet.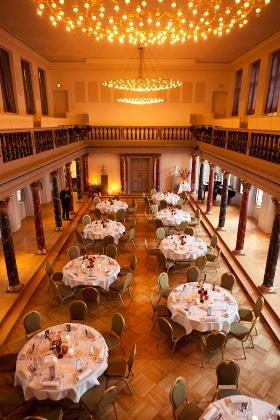 The Event department can be contacted at:
+45 4120 6841
Marie Melgaard Clausen
+45 4120 6839
Dorthe Christina Petersen
+45 4120 6654
Nicklas Løvén
Visiting address:
Ny Vestergade 10, Copenhagen K
More pictures from the museum are available upon request.