Host your event at The Danish War Museum
Whether you're looking for a social or professional venue, The Danish War Museum can provide a unique historical setting for your event.
For celebrations you can hire one of our impressive, historic halls. At The Danish War Museum you can dine in Christian IV's old arsenal from 1604.
You can also hire the museum's stunning courtyard, which has become famous in Copenhagen as a venue for major outdoor events, often held in conjunction with Søren Kierkegaard's Square on the waterfront.
With its central location between the Danish Houses of parliament at Christiansborg Palace and The Royal Library, The Royal Danish Arsenal Museum is a unique oasis on the Copenhagen islet of Slotsholmen. The 160m-long building was erected by King Christian IV of Denmark from 1598-1604, and has from its inception been used to store arms and weapons. This is a history we're proud to keep alive, and we also offer guided tours of the museum's collections, as well as catering events with a historical theme.
Venue hire at The Danish War Museum is administered by the booking centre at The National Museum of Denmark, which you can contact directly on + 45 4120 6841/4120 6840 or at bookingcenter@natmus.dk
Please note that if you book an events at The War Museum you can choose form 3 approved cateres.
The Cannon Hall at The Danish War Museum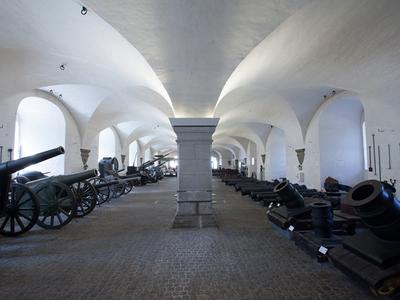 The event department can be contacted at:
Tel: 4120 6976
Bookingcenteret
Tel: 4120 6555
Danni Rune
Tel: 4120 6582
Asbjørn Juel Andersen
Tel: 4120 6824
Maria Lind Nielsen
Visiting address:
Ny Vestergade 10
1220 København K