The Heiligenberg Horn
At the castle Heiligenberg at Donaueschingen in Southern Germany there is a 'hunting horn' made of ivory. We do not know how old it is, but the first time it is mentioned is in 1889 in a description of the castle's great hall.
Like the gold horns the Heiligenberg-horn is split in the image rings. Many of the characters in the image rings origins from the long horn. This involve the relief figures as the bird on the fish, the armed demons and the mask with twisted horns. The many line drawn tubes are maybe also inspired by the golden horn. Other shapes may be picked up from elsewhere, especially a winged snake and two toads. The dragon head, which yawns over the horns mouthpiece, has nothing to do with the gold horns but is inspired by medieval or Renaissance dragons.
The Heiligenberg-horn very similar to Lord Londesborough's horn, also at the graphic "look alike" characters positioned between the images. You can call them both 'antiquarian' horns: They show a great interest in ancient and medieval times, and they combine images from multiple sources.
Samples of images not to be found on the gold horns: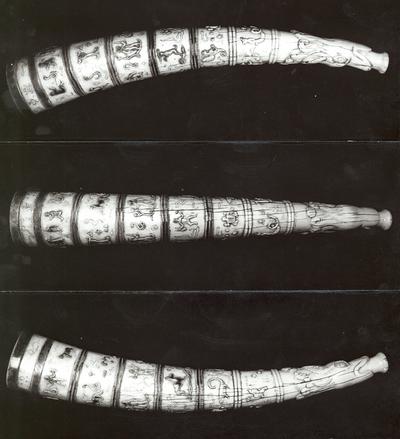 Samples of images which can be seen on the gold horns: