Tranquebar Registers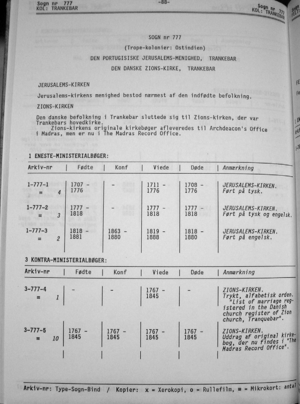 The e-publication presents a collection of original archival documents relating to Tranquebar:
1) Church Register of the Zion Church (1767-1845)
2) Census of Tranquebar 1790
3) Census of Tranquebar 1834
The original documents pertaining to the Church Register of Zion Church are kept at the Tamil Nadu State Archives, Chennai, India and a copy of the documents can be found as microfiche at the National Archives in Copenhagen, Denmark. Already around 1935, when Knud Heiberg transcribed the texts as typed sheets, some of the text had been unreadable. Part of the text was given out as a small booklet "List of marriages registered in the Danish Church Register of Zion Church, Tranquebar 1767-1845", Introduction by Knud Heiberg, Government Press, Madras (1935)". An introduction to the microfiche written by Henrik Jahnsen – "A few words about the Trankebar files" in 2004 has been included as an introduction to the church register. I have transcribed and reorganised chronologically Heiberg's transcription of Zions Churchbooks. In addition, I have transcribed the census from the town of Tranquebar from 1790 and 1834. The latter does not include the native citizens of the town. The two censuses are from the Danish National Archives.
Ramanujam, P. S. (2013). Tranquebar Registers. Copenhagen: The Tranquebar Initiative.