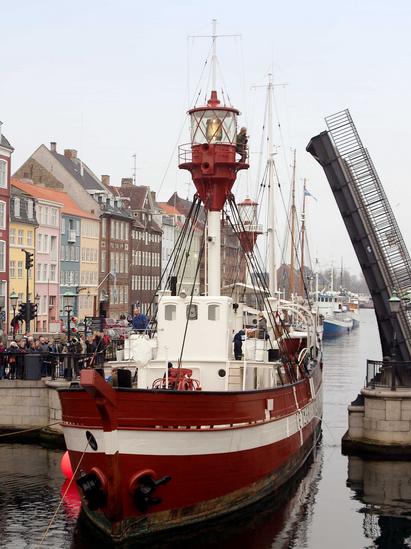 Gedser Rev (Lightship)
The Lightship Gedser Rev was taken out of service in 1972 and placed in stores at Holmen in Copenhagen, where it was put up for sale. The money for the acquisition of the lightship was donated by A.P. Møller and Chastine Mc-Kinney Møller's Foundation for General Purposes.
The lightship was moored at Nyhavn, which at that time was a run down area, after the last packet vessels and potato boats disappeared at the beginning of the 1950s. In the following years the ship was maintained by a group of pensioners, amongst them a former lightship seaman Mads Hansen. Two elderly engineers looked after the machinery all year round. The motor, windlass and foghorn were fully operational when the ship was taken over by the National Museum. This also applied to the machine that controlled the light, whilst the powerful lamp was removed before it was taken over.
Despite the continuous maintenance the first signs of ageing began to show on the old ship and large-scale repairs were inevitable. Thanks to a donation from A.P. Møller and Chastine Mc-Kinney Møller's Foundation for General Purposes a contract could be signed in the year 2000 with boat builders Hvide Sandes Skibs- og Baadebyggeri. Here decayed parts of the deck and freeboard were replaced so that the Lightship XVII was watertight once again and could return to its old mooring at Nyhavn.
The Lightship XVII was involved in several collisions during its long period of service. The most serious incident took place in 1954, when the ship was hit from the port side and sank in a few minutes. The seaman on duty and lookout managed to warn the rest of the crew, who were all rescued. Unfortunately the sailor himself was thrown overboard in the collision and drowned.
When the lightship was stationed there were two shifting crews, each consisting of seven men: a skipper, a radio operator, a ship's carpenter, a cook and three sailors. Each shift had a month's service onboard and month off. As well as the normal work onboard, meteorological, climatic and hydrographical observations were also made.
During its more than 100 years of existence the Lightship XVII has undergone several renovations. The National Museum does not intend that the ship should look exactly as it did when it was launched from N.F. Hansen's shipyard in Odense in 1895. The Lightship Gedser Rev is completely unique, with its present appearance and accommodation just as they were immediately after the tragedy of 1954. The cabins look like they did after the last shift departed from the ship in 1972. The three-cylinder Vølund engine, windlass and foghorn are fully operational. The royal portraits hang in their place over the sofa in the skipper's cabin and the name Gedser Rev is once again displayed on the lightship's hull, which is distinctively painted in the colours of the Danish flag.
Gedser Rev at Gilleleje shipyard