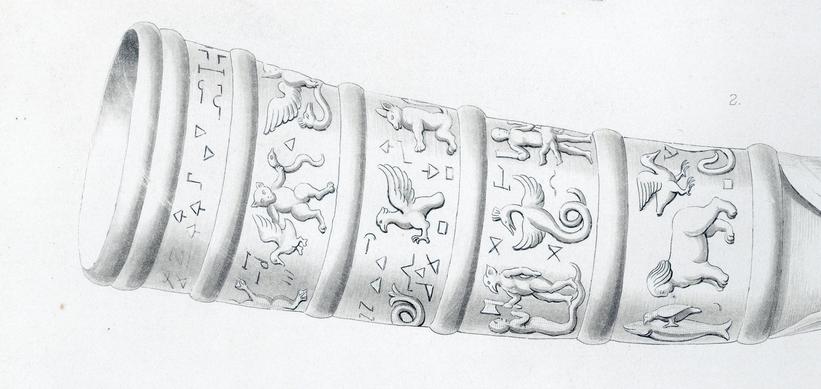 The Lord Londesboroughs Horn
Lord Londesborough was a wealthy Englishman, whom among other things, was interested in archeology and collected objects from historical times. In 1857 a book was published about his collection.
In this book we find three 'hunting horn'. The middle horns are of ivory and decorated with both images and strange characters. Some of the characters in the bottom two rings are taken from the long horn. This is the bird that sits on a fish, the two crossed men and a begging figure who is threatened by a creature with an ax. As in the Petersburg-horn the begging figure's tail is pointing to the right, not the left as in Worms drawing of the long horn. Models for the other characters are not known, but they resemble hieroglyphics, Roman amulets carved of precious stones and similar mysterious objects. The voracious dragon's head is rather inspired by medieval or Renaissance monsters, and as a whole the horn witness of a voracious interest in the past.
Lord Londesborough, who was born Albert Denison, lived 1805-1860. The book about his collection does not mention how he had acquired his 'horn', and his posthumous papers were burned in 1924. His collection was sold at auction in 1888, and the horn was purchased by antique dealer Charles Davies. Among his customers where both the King and other distinguished, but we do not know what happened to the horn, or where it is now.