The Late Iron Age
The period between 400 and 800 AD is known as the Late Iron Age and can be divided into two parts: the Early Germanic Iron Age (400 - 550 AD), also called the Migration Period, and the Late Germanic Iron Age (550 - 800 AD).
A rich Nordic art of animal styles developed during this period. At the same time we also see the first images of the Nordic gods, which in many ways mirror known Roman gods. The battle for property and territories continued and magnates were able to establish themselves in power centres with control over religion, trade and crafts. You can visit Scandinavia's largest centre of wealth at Gudme, where hoards of gold treasure totalling 10 kg have been found. You can also get to know the story of the Golden Horns from Gallehus - read here how Denmark's largest gold treasure from the prehistoric period was found and how it disappeared.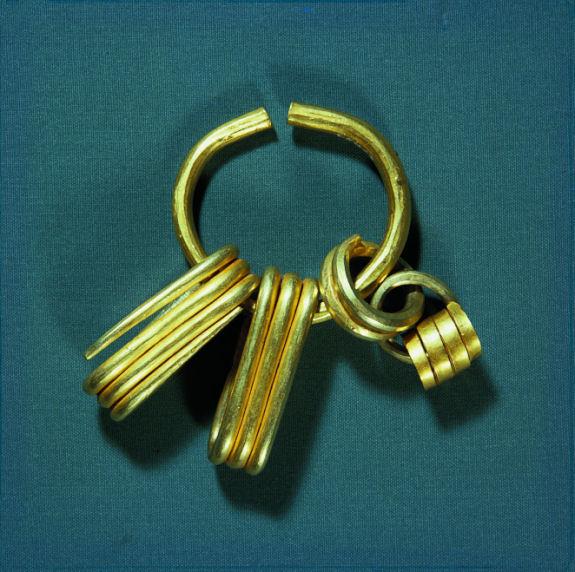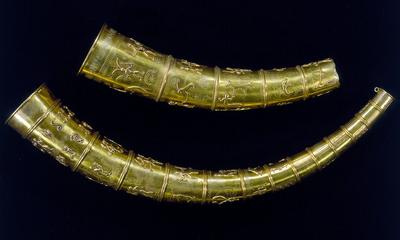 Amongst the most famous finds from Danish prehistory are the Golden Horns. Not only are they unique; their story has also been a very dramatic one. The Golden Horns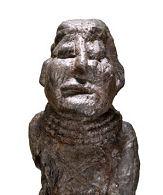 The 42 cm high wooden figure from Rude Eskildstrup in central Zealand was found in the 1880s standing vertically in a bog. He perhaps represents the final phase of a tradition of offerings, which began as early as the late Bronze Age.