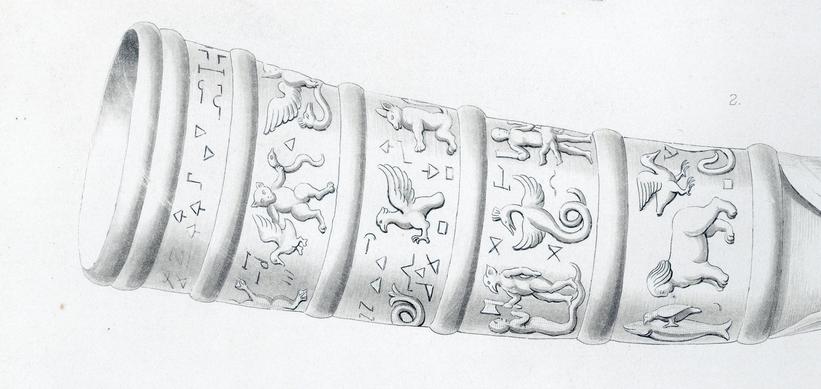 The Lord Londesboroughs Horn
LordLondesboroughwasa wealthyEnglishman, whom among other things, was interested inarcheologyand collected objectsfromhistorical times. In 1857 a book was published abouthis collection.

In this book we findthree'hunting horn'. The middlehorns are ofivoryanddecorated withbothimagesandstrange characters. Someof the charactersinthe bottom tworingsaretaken fromthe longhorn. This isthe birdthat sits ona fish, the twocrossedmenand a beggingfigure whois threatened bya creaturewithan ax. As in the Petersburg-horn the begging figure'stail is pointingto the right, notthe left asinWormsdrawing ofthe longhorn. Models forthe other charactersare not known, butthey resemblehieroglyphics, Romanamuletscarvedofprecious stones and similarmysteriousobjects. Thevoraciousdragon's headisratherinspired bymedievalorRenaissancemonsters, andas a whole the horn witness of a voraciousinterest inthe past.

LordLondesborough, whowasbornAlbertDenison, lived1805-1860. The bookabouthis collectiondoes not mentionhowhe had acquiredhis'horn', and hisposthumous paperswere burnedin 1924.His collectionwas sold at auctionin 1888, and the hornwas purchased byantique dealerCharlesDavies. Among his customers where both the Kingandotherdistinguished, butwedo not know whathappenedto the horn, orwhereitisnow.