A whale skeleton in the barn
The Sea Captain's House on the island of Rømø in south-western Jutland is a preserved whaler's home and one of the island's old houses once owned by wealthy families. The name of the residence refers to the captains, who in the 17th and early 18th centuries commanded large whaling boats, which went on trading trips and long whaling expeditions in the North Atlantic.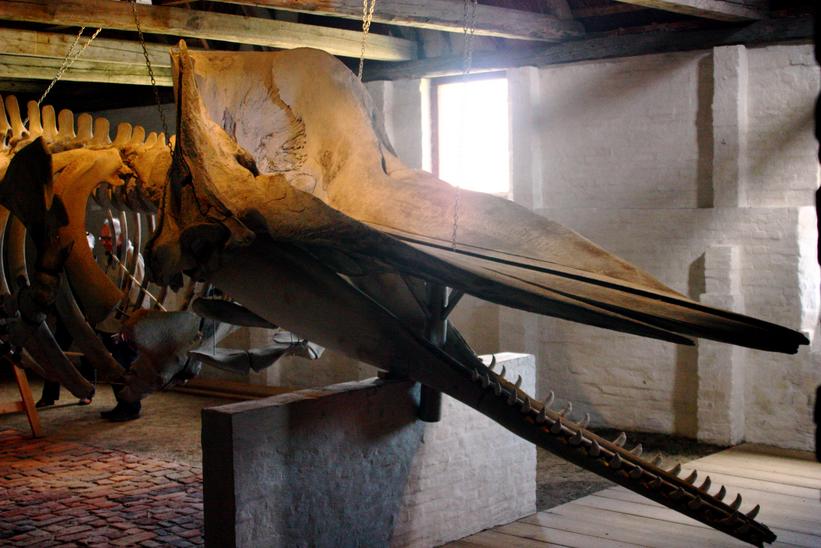 The house has an outstanding view over the Wadden Sea and is fully furnished. It contains unusually good examples of 18th century detailed painting and joinery. Inside the home you can also see whole walls decorated with the Dutch tiles of the period. In the barn you can view the large sperm whale skeleton, which gives a good impression of the large creatures and forces of nature that the period's sea captains had to contend with on their voyages to the Arctic Ocean.
A cosy cafe close to the house serves delicious lunches and homemade cakes, and outside there is ample space for children to play. You can also bring along a packed lunch and sit down in the area near the house, whilst enjoying the beautiful nature and pleasant sea views.
We look forward to welcoming you for an enjoyable and eventful day at the Sea Captain's House.
The Sea Captain's House was thoroughly renovated in 1998. The work was made possible thanks to a donation from A.P. Møller and Chastine Mc-Kinney Møller's Foundation for General Purposes.
Opening hours and admission
OPENING HOURS 2023
EASTER: 04.04. - 10.04, Tue.-Mon. from 10-15
SPRING: 02.05. - 31.05., Tue.-Sun. from 10-15
SUMMER: 01.06. - 30.09., Tue.-Sun. from 10-17
AUTUMN: 17.-22.10., Tue.-Sun. from 10-15
Closed on mondays (except on Easter Monday).
TICKET PRICES

Adult: DKK 60
Children under 18: Free