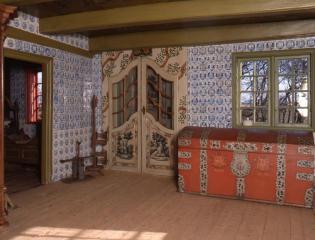 Exhibitions – the Sea Captain's House
The Sea Captain's House and outbuildings are furnished as they were in the last part of the 1700s. The residence is richly decorated with painted panels, carved woodwork and tiles from Friesland in the Netherlands.
The money for the spectacular conversion of the house in the middle of the 18th century came from a rich son-in-law from Tønder, who had earned his fortune in the area's lace trade.
The outbuildings tell us about the agricultural activity that was undertaken. Rømø's nature and the Wadden Sea created the conditions for a kind of agriculture, which involved a clear understanding of how best to utilise the local landscape.
Textiles and female costumes from the island are displayed in a small room, together with some fine tin-glazed earthenware brought back from abroad.
Rømø Local Museum, in cooperation with the National Museum, is responsible for the temporary exhibitions in the barn. The exhibitions deal with Rømø's occupations: fishing, sea travel and trading, whaling and farming, as well as Rømø's local culture and the Wadden Sea's nature and weather.
The various temporary exhibitions offer an interesting and thorough insight into Rømø's own particular history and circumstances.