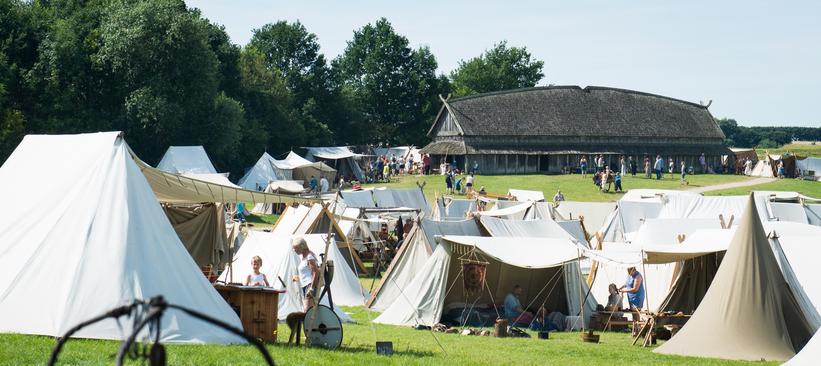 Trelleborg Viking festival 2021
Dear Guests and Vikings.
It is with great sadness that we have to cancel the highlight of the year at Trelleborg - Trelleborg Viking Festival 2021. Due to the Covid-19 pandemic and the Danish restrictions announced by the Danish Prime Minister concerning the reopening of Denmark, it will not be realistic to carry out such a large event at Trelleborg in July this year. The latest announcement means that the large number of registered Vikings, as well as visitors, does not make the Viking festival possible.
Fortunately, we can carry out Viking Summer at Trelleborg
The assembly ban applies to 500 people. This means that we will be able to carry out the Viking Summer instead of this year's Viking Festival at Trelleborg.
Please keep yourself informed with Trelleborg Viking Festival which continuously will be updated:
Homepage: https://natmus.dk/museer-og-slotte/trelleborg/
Facebook: https://www.facebook.com/VikingeborgenTrelleborg/
If you have any questions, do not hesitate to contact us at: vikingefestival@natmus.dk or phone + 45 41 20 63 90 / + 45 41 20 63 93
Thank you very much for your patience – we really hope to see you this summer at Trelleborg!
Kind regards
The Staff at Trelleborg
Trelleborg Viking Summer 2021
Dear Guests and Vikings.
It is with great pleasure that we invite you to the Viking Summer at Trelleborg 2021. The Viking Summer takes place during the weeks nos. 26 to 32, from the 27th of June to 15th of August.
Viking Summer at Trelleborg
Trelleborg are following the instructions from the Danish authorities very closely. We would like to invite you to use our fantastic outdoor areas and facilities to enjoy a cozy Viking life summer at Trelleborg either as a craftsman, warrior, trader or with Viking life.
Come and stay at Trelleborg in your Viking tents during a part of your summer holidays, week 26 to week 32 (29th June - 15th August 2020). Please sign up for other weeks than week 29.
The museum will provide firewood and organize the camp sites/ plots, where you can stay with a larger distance between the individual camps.
The Museum activity–and dissemination programs will focus on different crafts each week, but other crafts are of cause very welcome. If You are interested in participating in the activity and the dissemination of the Museum in the Viking village Slagløse, please write it in the application at our website.
Week 26 – Textile work.
Week 27 – Woodwork.
Week 28 – Viking Food.
Week 29 – Warrior Life.
Week 30 – Blacksmith and Jewelleries
Week 31 – Horses and bows.
Week 32 – Viking Life.
If you are interested in participating in Viking Summer at Trelleborg , please fill out the application form at this link
Enrollments are done on a first come, first served basis and are depending on the restrictions announced by the Danish authorities. If there are too many people enrolled in specific periods, we will do everything we can to offer you another period.
We are very much looking forward to hearing from you.
Kind Viking regards from
The staff at Trelleborg Viking Fortress