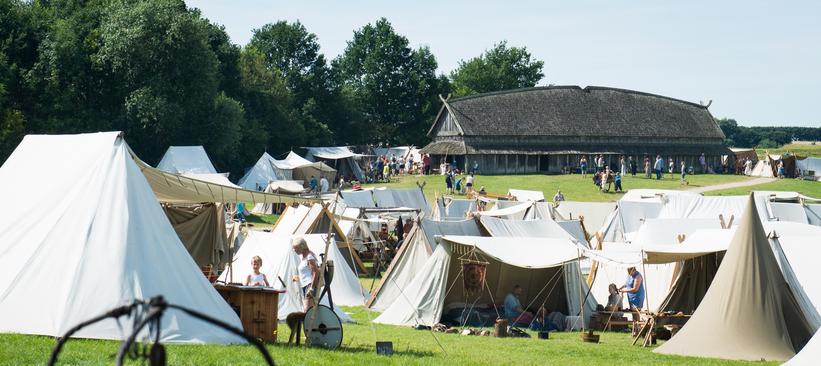 Trelleborg Viking festival 2021
Dear Vikings
We are very much looking forward to seeing you at TRELLEBORG VIKING FESTIVAL 2021, which will be realized, if the Corona situation allows it.
The festival takes place from Saturday the 17th July to Sunday 25th July. The application form is now online here
After the 8th February we will also send you another invitation - to participate in the Trelleborg VIKING SUMMER 2021, which will take place from the 26thof June to the 15th of August. During this period, you can camp, work, fight and live your Viking life at Trelleborg (according to the restrictions by the authorities).
The application form must be filled out before the 15th March. You will receive a reply from the museum no later than the 1st of April 2021.
Please keep informed at: https://natmus.dk/museer-og-slotte/trelleborg/
and Facebook: https://www.facebook.com/VikingeborgenTrelleborg/
We hope for a normal summer and are looking very much forward seeing you all.
The staff at Trelleborg
Vikinge festival 2021 is being held from the 17th july to the 25th july.
ATTENTION! Trelleborg Viking festival can be cancelled due to the Corona situation.
Trelleborg Viking Summer 2021
Dear Vikings
It is with great pleasure that we invite you to the Viking Summer at Trelleborg 2021. The Viking Summer takes place during the weeks nos. 26 to 32, from the 27th of June to 15th of August.
Viking Summer at Trelleborg
Trelleborg are following the instructions from the Danish authorities very closely. If they allow it, we would like to invite you to use our fantastic outdoor areas and facilities to enjoy a cozy Viking life summer holiday at Trelleborg. You will get an opportunity to work with your authentic Viking crafts, as Viking warrior, as tradesmen and with Viking life.
Come and stay at Trelleborg in your Viking tents during a part of your summer holidays, week 26 to week 32 (27th June - 15th August 2020). Please sign up for other weeks than week 29.
The museum will provide firewood and organize the camp sites/ plots, where you can stay with a larger distance between the individual camps.
The Museum activity–and dissemination programs will focus on different crafts each week, but other crafts are of cause very welcome. If You are interested in participating in the activity and the dissemination of the Museum in the Viking village Slagløse, please write it in the application at our website.
Week 26 – Textile work.
Week 27 – Woodwork.
Week 28 – Viking Food.
Week 29 – Warrior Life.
Week 30 – Blacksmith and Jewelleries
Week 31 – Horses in the Viking Age.
Week 32 – Viking Life.
If you are interested in participating in Viking Summer at Trelleborg , please fill out the application form at this link
Enrollments are done on a first come, first served basis and are depending on the restrictions announced by the Danish authorities. If there are too many people enrolled in specific periods, we will do everything we can to offer you another period. You will get a reply no later than 1st of June.
We are very much looking forward to hearing from you.
Kind Viking regards from
The staff at Trelleborg Viking Fortress