Guided tours, Viking life and Family activities
At Trelleborg Viking Fortress there is a lot to do throughout the season.
We have special activity programmes for Easter, summer and the autumn Holiday along with our Viking Festival in July.
Opening hours can be found in the orange box in the front page.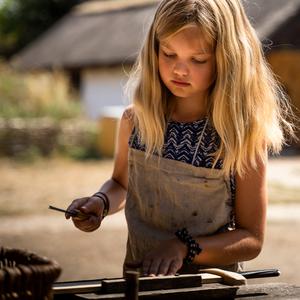 Summer at Trelleborg
Our summer activities are open from 29 June to 11 August and in weekends in August. The activities are based in our Viking village of Slagløse behind the Museum. Here you can bake a flatbread, paint a shield, train you archery skills and much more.
Price: Differs depending on activity. Activity coins can be bought at the Museum. 1 activity coin = 20 DKK.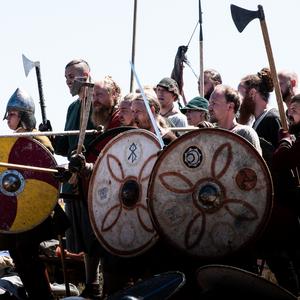 Viking Festival
The Viking event of the year!
Jump back in time and visit a Viking market anno 980. Viking craftsmen, warriors and traders fill the grounds with their tents. The smell of bonfires is in the air and the clash of steel on steel can be heard. You do not want to miss this! Read more here.
Price: adults: DKK 130, under the age of 15: DKK 30