Ethnographic Collection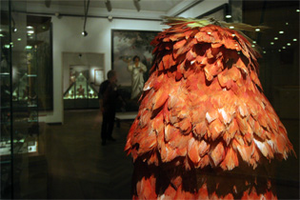 The Ethnographic Collection of the National Museum of Denmark encompasses a vast collection of ethnographic objects and archaeological artefacts primarily from non-European cultures as well as the Arctic peoples.
The oldest part of the collection dates as far back as the 17th and 18th century, originating from the Danish Royal Kunstkammer.
In the 19th and 20th century, scientific expeditions to, for instance, Greenland and the Arctic regions of North America as well as Central Asia and Mongolia yielded great collections of objects and artefacts that were added to the existing collection.
Researchers from the Ethnographic Collection carry out field work, collect objects from contemporary cultures and excavate archaeological artefacts. They also collaborate with international researchers and work together with people from those cultural areas of which many of the collection's objects come from. Research into the Arctic regions of the world is continuously an important focus area.
The Ethnographic Collection is responsible for the exhibitions Peoples of the Earth and Ethnographic Treasures in the Prince's Palace.
The Ethnographic Collection houses the only ethnographic research library in Denmark with particular focus on material culture within the fields of ethnography, anthropology and civilisation culture. In addition are archives containing rich and diverse collections of photographs and historical records.
Enquiries to Ethnographic Collection
Ethnographic Collection answers questions relating to collections, research and history.
Email the Secretariat
For study visits see here.
In February 2017 the National Museum of Denmark embarked on a major registration and packing project in preparation for our move to new storage facilities. This is a resource-intensive project, which means the National Museum's ability to respond to requests for research and archive visits, loans and photographs will be limited and take longer during the years it takes to complete the move.
We look forward to opening our new storage facilities and resuming our usual high level of service in processing the many inquiries we receive every year about the museum's collections and archives.
Until then, we thank you for your interest and patience.
The National Museum
Ethnographic Collection
Frederiksholms Kanal 12
DK-1220 København K
Tel: +45 4120 6201
Email the Secretariat
To use the library and archives of Ethnographic Collection please contact:
Jesper Kurt-Nielsen
Tel: +45 4120 6211
Email