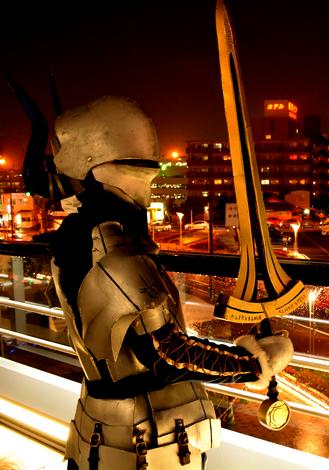 Toshi – Hospitality and Good Manners
Many cosplayers push boundaries and cross borders. For Toshi from Tokyo, however, 'hospitality and good manners' is the motto for cosplay. He has worked in a cosplay event company for years. Recently, he decided to become a cosplayer. He created the armour of the King Arthur character Saber from the
manga, anime and light novel series Fate/ Prototype. Saber has a strong sense of duty and justice. In Convention, Toshi´s take on the Japanese convention community is shown in photos from the biggest fan, manga and cosplay convention in Japan.
"Cosplayers want to become someone else than they are in real life. They think: 'If I can just be like my idol, or dress more sexually, or have a big sword.' They want to transform themselves and become almost too cute, handsome or strong. I think that's a big reason they cosplay."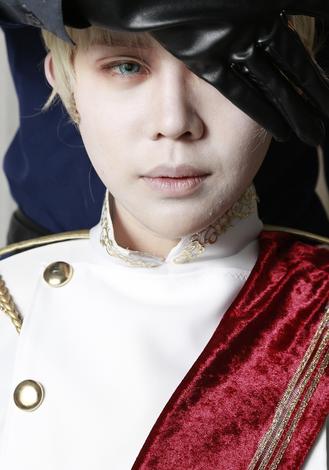 Hotaru – Exploring the Dark Side
Hotaru is a cosplayer from Osaka, Japan. To Hotaru, cosplaying is mainly about perfecting a cinematic feel and exploring the dark side with images of violence and clashes between characters. She often transforms original story worlds and characters beyond recognition. With the Hetalia cosplay she strives to express themes and emotions like patriotism, camaraderie and brotherly love between European male characters.
"I know I risk negative reactions when it comes to exploring the darker side of history in a particular
country through photography. So why do I choose these themes? It's like when you drink a lot of caffeine or go to a rock concert and get really excited. That's how I feel when I explore the dark side."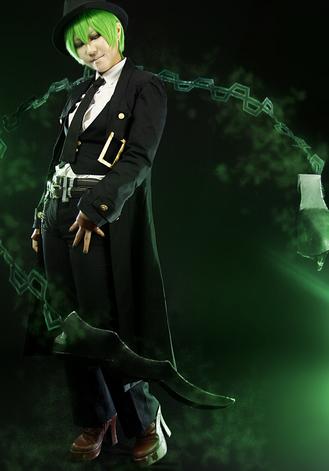 Kurowko – Love, Social Engagement and Purikura
Kurowko is a 24-year-old cosplayer from Osaka, Japan. She loves the characters Hazama and Terumi from the fighting game Blazblue. When she cosplays them, she becomes cool, strong, cute, attractive and mysterious - just like them. Kurowko shares these emotions locally and online. As Hazama and Terumi, she participates in charity and AIDS-awareness events at nursing homes, Santa runs, etc.
"I sometimes go to gaming arcades to play the Blazblue fighting game. In Blazblue, I love Hazama
and Terumi. Everyone thinks these characters are cool and strong. But I also find them cute, attractive
and mysterious. I put this love into my work with my Hazama and Terumi cosplay."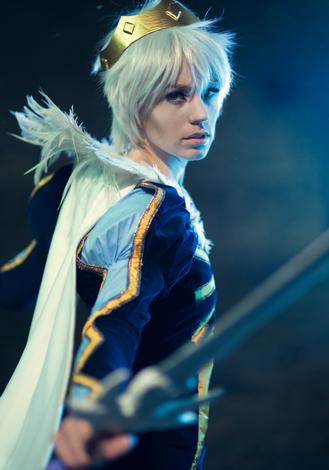 Camilla (Himo) – Ridiculous Anime and Crazy Ideas
Camilla (Himo) is a 22 year-old Danish cosplayer. She meets up with Julie, Nikoline and two other cosplayers called Marie and Lea to watch anime. Even ridiculous anime inspire crazy ideas, which many hours of research, sketches, shopping for materials and sewing later become costumes, photoshoots and performances at conventions. In Creation Room Camilla talks about creating fantastic costumes
from nothing and everything. You can also see her crossplay of Mytho from Princess Tutu here.
"I watch anime with my friends. We sit and laugh at how ridiculous they are. But then suddenly someone
says: 'Hey, we could also do this …' That starts a spiral that ends with us thinking: 'We've got to make it!
This is way too epic for us five to be the only people who know about it."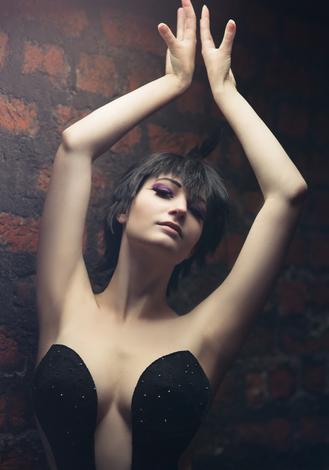 Julie (Kelevar) – The Community Comes First
Julie (Kelevar) is a 21 year-old Danish cosplayer. She is active as a cosplayer, photographer and with the Danish magazine DKos. She is constantly exploring ways to 'translate' the stories, designs and characters of Japanese anime, manga and video games and American series into cosplay photos. For Julie, the social community of cosplay is key. In the next room you can see the Rue and Mytho cosplay from the Swan Lake inspired ballet anime Princess Tutu, which Julie made with Camilla. In the Photoshoot video you can see and hear about Julie's photography and cosplay modelling.
"Nobody really knows what cosplay is. They all want us to be the kind of kids that just want to dress up
to escape real life. But most of us think: 'No, that's not what it's about. I'm fine with my life. I just enjoy
dressing up."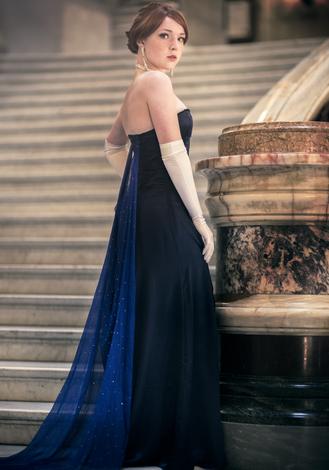 Nikoline (Enilokin) – Touching the Nostalgic Heart
Nikoline (Enilokin) is a 21 year-old Danish cosplayer and a big fan of Nintendo's Legend of Zelda game series, which she cosplays in photoshoots and at Danish and other European conventions. For Nikoline, cosplay is not only a Japanese universe of stories, characters and design. Disney's princesses also touch her nostalgic heart. There is glitter in the air when Nikoline brings princesses to life with her needle and thread. You can see more of her designs and dreams about the Japanese 'badass' princess Zelda in Creation Room, as well as how she, Camilla and Julie play with Japanese photo aesthetics on the Purikura screen.
"Anastasia. I saw that film SO many times when I was a kid and thought: 'Wow, that dress is beautiful. I want to make it.' It's not important if my cosplay comes from a Japanese or an American series. What's important is whether I like the design and the character."