The Serampore Initiative 2009-2020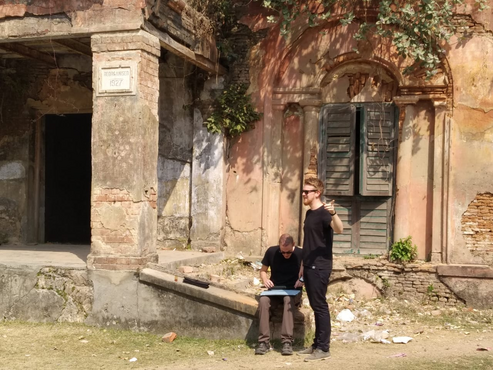 The National Museum of Denmark's large-scale efforts in Serampore started in 2009. First, we identified and recorded the old Indian, Danish and other European buildings dating from when Serampore was a Danish trading post – back when it had the Danish name Frederiksnagore (1755-1845). Locating these buildings and digging out information about them in the Danish, Indian and other archives required quite the detective work. Subsequently, we started restoration work on three larger and four smaller buildings from the colonial era. The work was overseen by Indian conservation architects in dialogue with the project's Danish architectural advisor Flemming Aalund. The work was carried out by Indian craftsmen specialized in traditional construction methods. We have also researched Serampore's Danish and Indian history and related the history of the city and its people through exhibitions, film and in writing. Here you will find links to reports, articles and other materials.
Indian-Danish Collaboration
Our work in Serampore was done in close collaboration with the project's Indian partners: the government of West Bengal, the citizens of Serampore, restoration experts and city planners, researchers and students. The local authorities oversaw the restoration of the former Danish House of Government as well as improvement work on streets and squares surrounding the buildings with the National Museum of Denmark acting as advisor.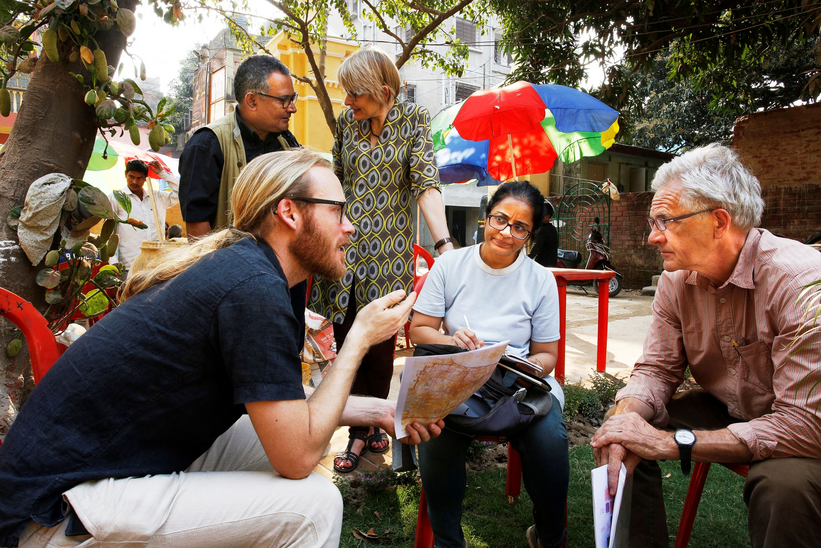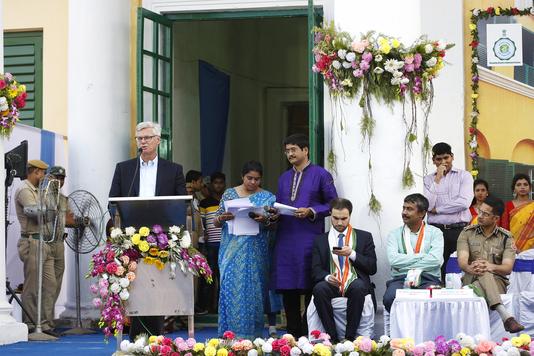 An Improved Urban Environment
The Indian economy is growing rapidly and many of Serampore's historical buildings have been replaced by high-rise concrete structures. It is essential to make building conservation an integrated part of the urban development and life in the city. By restoring some of the most important historical buildings and improving the original network of streets and squares, we have been able to create a charming historical centre which is both a testament to Serampore's history and at the same time, provides a recreational area with restaurants, tea stalls and green spaces for the city's inhabitants and tourists.
The Serampore Initiative is directed by the National Museum of Denmark's "Modern History and World Cultures"-unit. The chief part of the project was funded by a generous grant from The Realdania Foundation.
Steering Committee
The National Museum of Denmark: Head of Research and Collections, Christian Sune Pedersen (chairman), Assistant Director, Jesper Stub Johnsen (2015-2018: Assistant Director, Camilla Mordhorst, 2009-15: Assistant Director, Lene Floris), Architect Niels Erik Jensen
Realdania: Project Manager, Architect Eske Møller
Members of the Danish Survey Team
Project Coordinator: Bente Wolff, The National Museum of Denmark
Architectural Advisor: Flemming Aalund, Tegnestuen Raadvad
Historian: Simon Rastén
Anthropologist: Kristina Djurhuus Christiansen
Indian Partners
The State Government of West Bengal
Hooghly District and Serampore Subdivision
West Bengal Heritage Commission
West Bengal Tourism Development Corporation Ltd.
Serampore Municipality
The National Museum of Denmark's partner: Indian National Trust for Art and Cultural Heritage (INTACH), Kolkata Chapter
Restoration Architect: Manish Chakraborti, M/s Continuity
Restoration Architect: Gopa Sen The Designers
City Planner: Architect Ashish Acharjee
Landscape Architect: Sujoy Das & Monika Sinha
City records : Indian Institute of Engineering Science and Technology, Shibpur (IIEST) Dept. of Architecture, Town and Regional Planning
CEPT University, Ahmedabad, Department of Architecture
Citizen Surveys: Partha Sarathi Banerjee, The Researcher
Danish Collaborative Partners
The Danish Embassy, Delhi
The Danish Cultural Institute, Delhi
The Royal Danish Academy of Fine Arts, Schools of Architecture, Design and Conservation
Danish Funding
Realdania, The Danish Ministry of Culture, Queen Margrethe and Prince Henrik's Foundation, Innovation Foundation Denmark

Supplementary Projects:
Society for the Conservation of Cultural Heritage in Serampore
Indian Funding and Supplementary Projects:
Government of West Bengal