Maps and Sketches from Tranquebar (1670-1845)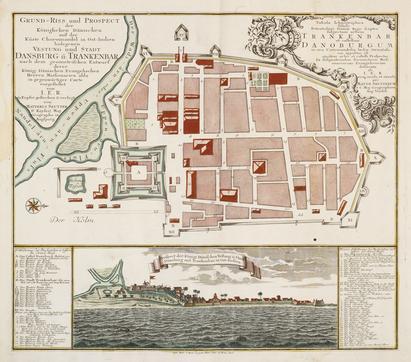 The National Museum of Denmark contains a small collection of maps and sketches from the Danish era in Tranquebar, including maps of Tranquebar town and Tranquebar district by the German cartographer and map publisher Matthias Seutter (1678-1757), and sketches of everyday life in the Danish quarter from the 1830s by Adele Mourier (1803-1855), the sister of Danish Governor Konrad Emile Mourier, who was Danish governor from 1832-1838.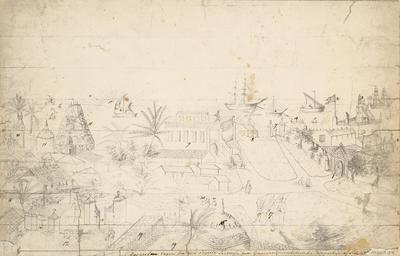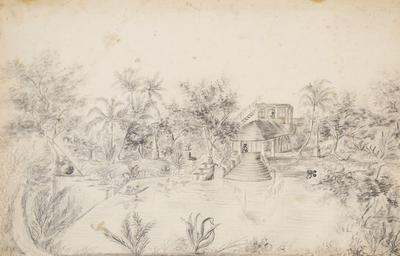 Numbers on the sketch of the Parade Ground in front of Fort Dansborg in Tranquebar:
1. The guard, who is standing at the gate leading to the fort.
2. The flag of the fort.
3. The lamps at the fort.
4. The bell of the fort.
5. Catamarans; small boats made of wooden logs, used by the fishermen.
6. Toniar; Boat, the size of a yacht.
7. The Strand Gate.
8. The guardhouse.
9. A private house.
10. The sun, rising above the ocean.
11. The greatest pagoda of Tranquebar.
12. The yard of the government house, with its gate (13) to the side street, and its gate to the stables and another yard.
15. The chimney of the kitchen building.
16. A small pagoda close to the government house.
17. Substitute Sepoys with their Gefrieder (corporal).
18. A Selling; A boat for fetching and bringing cargo from the ships.
19. The roofs of the godowns (warehouses) belonging to the gov. house.
20. A well, with its pitcher.


Text: Professor Esther Fihl and Research Assistant Caroline Lillelund, 2015
Web design and supervision: Assistant Curator Bente Gundestrup
Language editing: Research Assistant Manasa Bollempali