Items from the Paraiyar and Chakkiliyar Communities in Tranquebar (2007)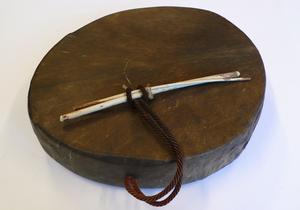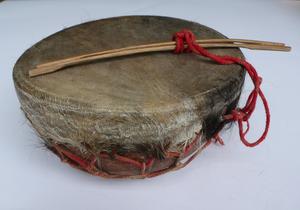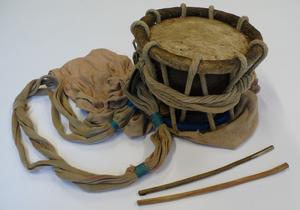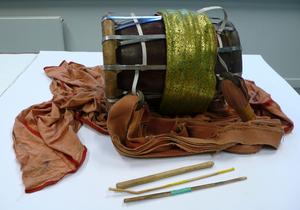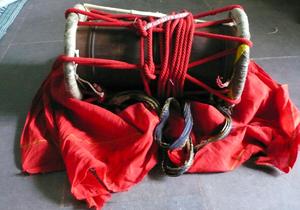 Drums used by Paraiyar funeral orchestras, collected by Caroline Lillelund 2007. Photo: Caroline Lillelund. National Museum of Denmark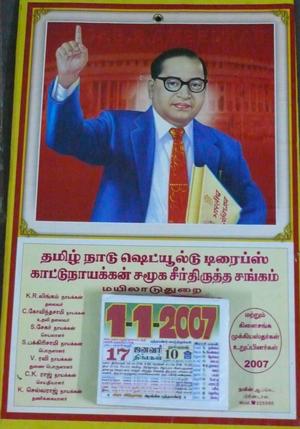 In 2007, a collection of 527 objects from contemporary Tharangampadi (Tranquebar) was established. The objects mostly originate from low caste communities and from Christian and Muslim minorities. The items were collected by Caroline Lillelund for The Tranquebar Initiative of the National Museum of Denmark and included in the Ethnographic Collection.
The collection contains drums and reed instruments from the Paraiyar caste, cobbler tools from the Chakkiliyar caste. Other artefacts include religious and political bric-a-brac, clothes, jewelry, and everyday household utensils.
The items particularly reflect the material culture of low caste communities whose characteristic traditions and conditions of life often evade attention in museum exhibits' broad representation of Indian culture, though they constitute a large part of the Indian population. The collection addresses the vast social, religious and cultural differences that continue to characterise Tharangampadi in 2007 – as they did in the past.
For a publication on the collection from 2007, see here!
Video interview with Caroline Lillelund, 2008 (in Danish), see here!


Text: Professor Esther Fihl and Research Assistant Caroline Lillelund, 2015
Web design and supervision: Assistant Curator Bente Gundestrup
Language editing: Research Assistant Manasa Bollempali