South Indian Company Paintings (c. 1770-1850)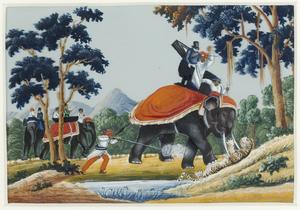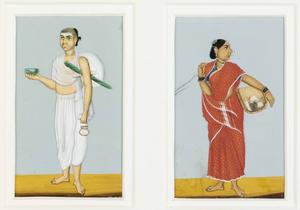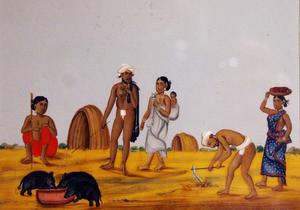 The National Museum of Denmark contains a large collection of company style miniature paintings from south India. Company paintings represent a unique artistic tradition where Indian artists produced paintings depicting local people, plants and birds, or festivals and working scenes as souvenirs for a European public in the 18th and 19th centuries. Particularly popular were series with motifs of different castes or trades, depicting husbands and wives together with an emphasis on typical tools and differences in costume. The exoticised depictions of everyday life in India as shown in the company paintings may be interpreted as a reflection of not only the Europeans' attempts to understand the culturally complex Indian society through classification and categorisation, but also the royal Indian patrons' and artists' wish to portray India in a comprehendible manner to the western eye as well as to present local folk life in an aesthetic way.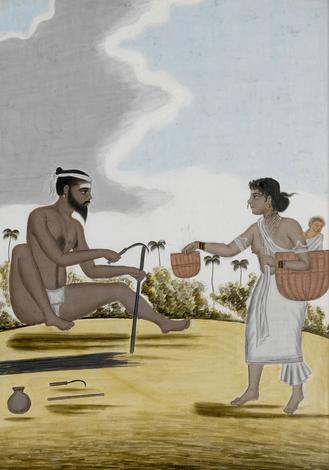 The buyers were mainly expatriate civil officers employed by the European trading companies. They wanted Indian souvenirs to take home to show friends and family. Thus, European demand caused the development of a new art form in India. To suit the taste of European patrons, the artists blended elements from Indian miniature painting tradition with a more naturalistic European approach to painting.
The company style of painting arose in a number of different cities and work from each region is distinguishable by style. Many of the patrons of company style painting worked for the various East India companies, but local rulers also took interest in the mixed Indian-European style. In south India, Thanjavur was an important center for the production of company paintings, particularly during the reign of Serfoji II (1798-1832).
Many of the company paintings in the National Museum of Denmark are made on thin, transparent slices of the shiny silicate mineral mica. Mica-paintings were in high demand among the Europeans and were at times mass-produced. So, mica-paintings were produced by different artists on the basis of the same model. Therefore, some of the mica-paintings in the Danish collections are almost identical, though they vary in quality. Mica paintings were easy to transport home as a souvenir and often sold in convenient boxes.
A large part of the company paintings in the collections of the National Museum of Denmark were brought to Denmark by N.S. Fuglsang, who served the Zion Church as pastor for the Danish congregation in Tranquebar 1792-1802. Also an entire album of mica paintings was brought to Denmark by Constance Mourier, the wife of Governor K.E. Mourier, who served in Tranquebar 1832-1838.
Text: Professor Esther Fihl and Research Assistant Caroline Lillelund, 2015
Web design and supervision: Assistant Curator Bente Gundestrup
Language editing: Research Assistant Manasa Bollempali