School life and education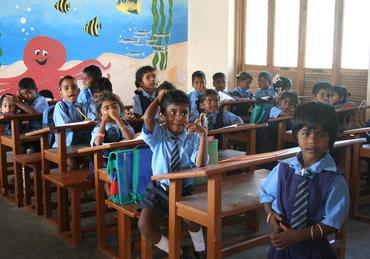 The article is based on a short term field study in Tharangampadi (Tranquebar) in February-March 2007. It focuses on the strategies, hopes and changes regarding education amongst the fishermen.
During the last few generations, there has been a general change in the attitude regarding the choices in education – where earlier it was expected and desired that the sons and daughters undertook the profession and work of their family through generations, it is now desired that the children of both sexes abandon the old division of labour, where the sons went fishing and the daughters took care of the household and fish vending. With the hopes that getting an education will provide more financial security than the ever fluctuating fishing, many families are trying to save up to afford the often costly college or university education for their children. There are some obstacles to be overcome; financial, social and structural, in order to achieve their goal: To get at least one son or daughter educated and able to hold a position with enough social status and income to benefit the entire family.
These strategies imply the need to change the short-sighted economic system of their community, a shift in the perception of the position and capacities attributed to their caste and the will to make sacrifices – for instance to sacrifice the education of the eldest son in order to make possible the education of others, as it is taken for granted that the individual must give up personal interests for the common good of the kin. But even though education is considered solely advantageous by the fishermen, there are also proofs of conflicts and frustrations caused by the changes that accompany a raise in the general level of education.
Bønnelycke, Julie. (2009). "Skole og uddannelse i Tranquebars fiskersamfund", in Esther Fihl (ed.), Tranquebar Initiativets Skriftserie, no. 6. Nationalmuseet.